GOMR is run on the highways and back roads of Alleghany County, NC. Some of the most breathtaking views of the Blue Ridge Mountains are right here. These are the roads we run. As the Head Gomer, I have personally run every mile of the route many times and know that it is challenging but spectacular. Sometimes I listen to music. Sometimes I want to hear the wind through the tall pines, the water rolling in the crisp mountain streams, and simply the quiet in this rural mountain setting.

Below is a map of the whole 104-mile loop. It will be completed once for the Half GOMR, once for the GOMR Ruck, and twice for full GOMR.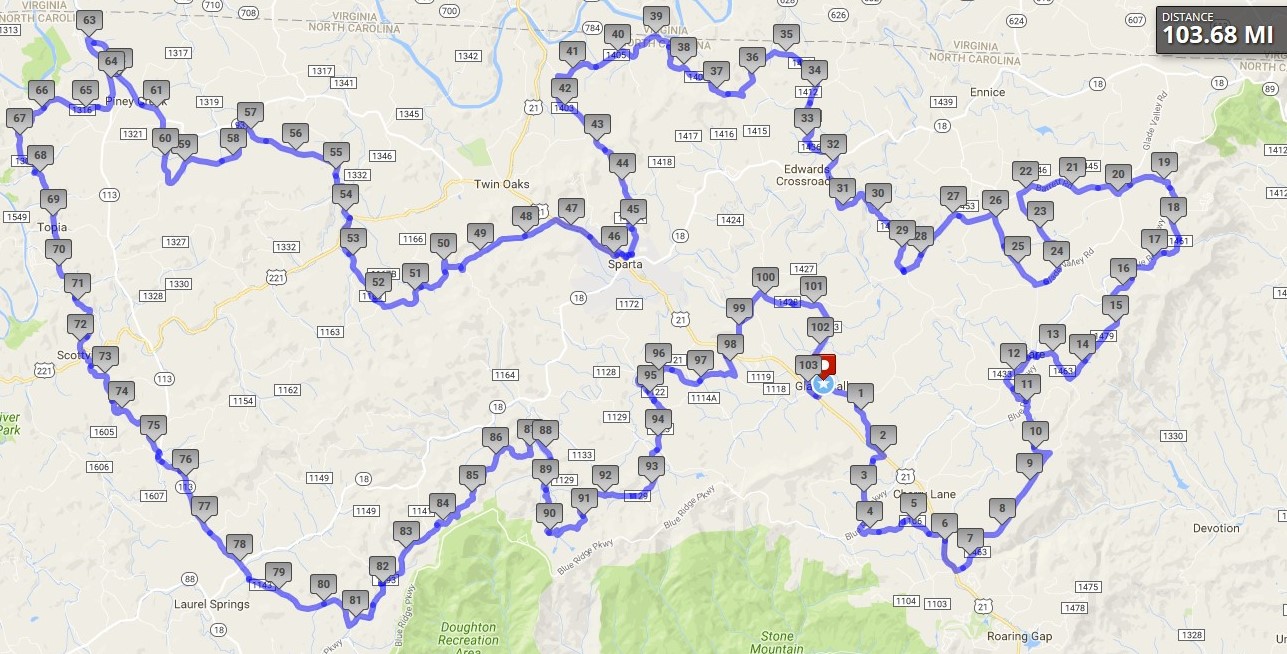 We ask that you run with your phone because we have partnered with a great running app that you can use even if you don't have cell phone signal.

Note: AT&T doesn't work at all up here, and other carriers are pretty spotty.

The RunGo App (available on Apple and Android) lets you download your GOMR routes to your phone. Then, when you're ready to run, hit Start and it will have the map and give you vocal cues along the way for turns, and may even tell you how much further you have to go on a particular climb. I have used it up here and at other races where I had no phone signal and it worked awesome. It's why we decided to partner with them. We've created the Get Outside Mountain Relay group inside the app with all the routes.


Download the app and complete the instructions below before GOMR and where you have good cell service or Wi-Fi.
Download the RunGo app from your app store.

On the bottom of the screen, tap Groups.

Type in Get Outside Mountain Relay.

Find and open the Legs you plan to run (1, 13, 25 or 3, 15, 27, etc.) and press the in the upper right corner. This saves them to your phone.

When you're ready to run, open the app, click Find Route, and choose My Routes, open the route, click Start, and take off.

Don't forget to hit Stop when you pass the baton (slap bracelet) so it records your time.
For an interactive map of the whole loop on Run Go, click HERE.
A PDF of the whole loop with each leg can be found HERE.



RunGo legs:
LEGS 1/19 – GOMR Village to Cherry Lane Fire Department – 5.68 miles
LEGS 2/20 – Cherry Lane Fire Department to Rich Hill School – 5.98 miles
LEGS 3/21 – Rich Hill School to Saddle Mountain Union Baptist Church – 5.4 miles
LEGS 4/22 – Saddle Mountain Union Baptist Church to Glade Creek Fire Department – 7.3 miles
LEGS 5/23 – Glade Creek Fire Department to Glade Creek Union Baptist Church – 4.11 miles
LEGS 6/24 – Glade Creek Union Baptist Church to Pleasant Home Union Baptist Church – 5.52 miles
LEGS 7/25 – Pleasant Home Union Baptist Church to Reeves Ridge Christmas Tree Farm – 7.4 miles
LEGS 8/26 – Reeves Ridge Christmas Tree Farm to Sparta United Methodist Church – 4.35 miles
LEGS 9/27 – Sparta United Methodist Church to Elk Creek Baptism Hole – 8.62 miles
LEGS 10/28 – Elk Creek Baptism Hole to Piney Creek Meeting House – 6.95 miles
LEGS 11/29 – Piney Creek Meeting House to Piney Creek Fire Department – 3.41 miles
LEGS 12/30 – Piney Creek Fire Department to 1479 Allen Road – 5.8 miles
LEGS 13/31 – 1479 Allen Road to Belview Baptist Church – 4.81 miles
LEGS 14/32 – Belview Baptist Church to 1874 Meadowfork Road – 7.3 miles
LEGS 15/33 – 1874 Meadowfork Road to Intersection of Air Bellows and Pruitt Road – 5.8 miles
LEGS 16/34 – Intersection of Air Bellows and Pruitt Road to Macedonia Free Will Baptist Church – 6 miles
LEGS 17/35 – Macedonia Free Will Baptist Church to Grace Community Church – 3.48 miles
LEGS 18/36 – Grace Community Church to GOMR Village – 5.65 miles
Individual PDFs of Turn by Turn instructions (no map or notes). Great to download your legs to your phone for reference.

LEGS 1/19 LEGS 2/20 LEGS 3/21 LEGS 4/22
LEGS 5/23 LEGS 6/24 LEGS 7/25 LEGS 8/26
LEGS 9/27 LEGS 10/28 LEGS 11/29 LEGS 12/30
LEGS 13/31 LEGS 14/32 LEGS 15/33 LEGS 16/34
LEGS 17/35 LEGS 18/36